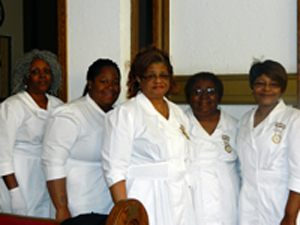 Usher Board

DATE MINISTRY BEGAN: 1981

GUIDING SCRIPTURE(s): Psalm 84:10

(KJV) "For a day in thy courts is better than a thousand. I had rather be a doorkeeper in the house of my God, than to dwell in the tents of wickedness."

MEMBERSHIP POSITIONS:
Ministry Leader(s)-

President – Mary Kelly

Vice President – Shelia Mckeown

Secretary/Recorder – Gwynetta Adesuyi

Treasurer – Joenette Kelly Kidd
Our priorities are as follows:
Greeting church members and guest

Seating members and visitors

Welcoming

Keeping our church clean
Our priorities will support the mission of CBCGM & the Strategic Plan thru:
Accommodating people to be a part of our church family

The Responsibilities of this Ministry (that support the implementation of the CBCGM strategic plan) are:
a) Setting standards for our ministry so that we can apply them to our daily lives.
b) Always making sure that the church is not messy before or after service.
c) Maintain a positive attitude while encountering with regular members and visitors.
The Responsibilities of Members belonging to this Ministry:
Committed to grow in faithfulness as a disciple of Christ by:

Engaging in the study of God's word,

Praying daily for the people and leaders of CBCGM,

Serving at least once each year in an outreach ministry,

Practicing forgiveness in all relationships as a witness to God's unconditional love and

Regularly attend the weekly worship of the community of faith.

Actively participate and contribute positively to the advancement of the group;

Understand the mission & vision of CBCGM in order to faithfully plan and implement the ministry of welcome, invitation, nurture, growth, and service at CBCGM;

Listen faithfully to God and the people of CBCGM;

Attend every meeting when in town, unless illness prevents it;

Employ your spiritual gifts to build the body of Christ that is CBCGM.

TIME COMMITMENT: (additional tasks outside of meetings) 10 hours a week

LENGTH OF COMMITMENT TO MINISTRY TEAM: 3 years

Sharing story/stories of how our group has witnessed lives transformed as a result of our ministry.
"When there are new members we may ask them if they are interested in becoming a usher. That allows us to build stronger relationships between our ministry and members."